ODAK Control Valves
LIMITOR Valve Actuators
---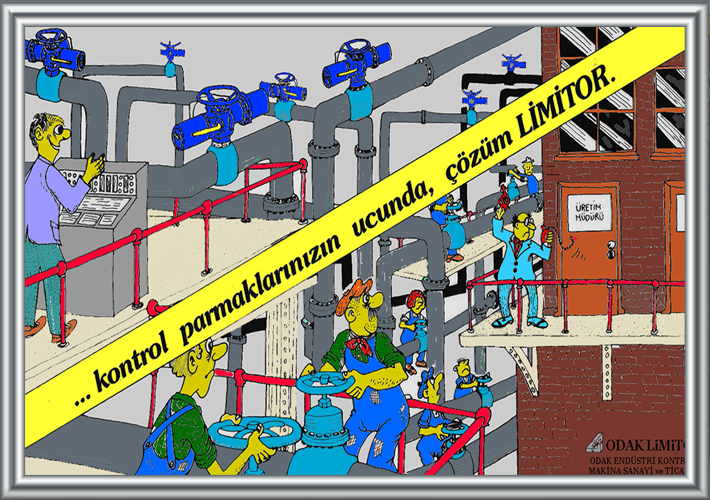 "Your job will fill a large part of your life and the only way to be truly happy is to do what you believe is a great job. And the only way to do a great job is to love what you do."
Say;
Since the day we opened our doors as an Actuator Manufacturer in 1986, we have been producing valve actuators and control valves with our registered trademarks ODAK and Limitor.
Within the superior quality service and product range; There are actuator flanged type Butterfly Valves, Actuated Channel Covers (Penstocks), Actuated Exhaust Dampers (Valves), 3-Way / Single and Double Seat Control Valves. We proudly produce locally with our registered brands, ODAK, our Valve Group and LİMİTOR, our Actuator Group.
As we can maintain existing actuators in your facilities, actuators are adapted to existing manual valves by our service team. ODAK Limitor service team examines the valves to be adapted to the actuator in your facility, designs the necessary interconnection equipment, completes the installation of the LIMITOR Actuator to your manual valve and delivers it by commissioning.
Our principle that distinguishes us from other businesses is that we can passionately offer our customers the superior service they deserve by establishing a sincere communication.
In the sectors we serve, to reduce foreign dependency in the systems used and to design reliable, innovative and continuously improving products that apply all the possibilities of technology by keeping up with the advancing technology with Argeler, which makes the power of domestic goods.
We will never stop expanding and improving our company and products in order to maintain our services in the best possible way.
To learn more about us and our products, check out our site.
Limitor is exactly what you need..
---